In the early 17th century the village was home to a wealthy cattle farmer called Cuthbert Wharley, known locally as The Butcher. The development of the village was much influenced by his family. He lived in what we now call The Old House, but was then known as Tippings. When he died, Tippings passed to his son Henry, who let it as a bakery, first to Henry North, then to Jonah Hillhog.
Another of Cuthbert's sons, Edward, lived with his wife Margaret and their children in what we now call The Pump House but was known at the time as Hooks. At that time, the house stood in 7½ acres of land and was one of the most important yeoman houses in the village, being occupied by a succession of wealthy people. After Edward's death, Margaret continued to live there with her children, including her new-born son, Abraham (born shortly before his father died). Because of her strong Quaker faith, she refused to have Abraham baptised in the parish church. Her son, Henry, inherited Tippings from his uncle (Henry – above) and turned it into a pub called The Wheatsheaf. (There is still a plaster mould of a wheatsheaf on the front wall of the house as a reminder of this.)
Both Henry and Edward were Quakers, and it was Henry's son, Daniel, who in 1695, though himself resident in London, donated land in the village for the construction of the Quaker meeting house (now 15 High Street). In 1697, Margaret, with a number of other wealthy parishioners, was witness to a document agreeing to the building of four alms-houses with charity money. The houses were built further up the Widford Rd from The Pump House and opposite The George.
Churchyard Memorial
Abraham Wharley, son of Edward and Margaret, became a successful farmer, like his father. However, he disappointed his mother by being baptised in Hunsdon Church at the age of 22. There is a significant (though not listed) monument in the churchyard to him. The inscription reads:
Here lies the body of Abraham WHARLEY, yeoman, late of Rye in the parish of Stanstead Abbotts, Herts, who for his great industry and his extensive universal knowledge in rural affairs of all sorts scarcely had his equal in these parts. He was also in all other respects a very valuable person. A hearty and sweet friend and good natured companion, a kind, beneficial and charitable neighbour and an honest and good man, so that as he lived universally beloved, so he died generally lamented without issue, August 11th 1723. In memory of which his affectionate nephew Richard MEAD, yeoman of Roydon, Essex, (whom he made his executor) has caused this tombstone to be placed over him July 30th 1725.
Fama caetcia dacit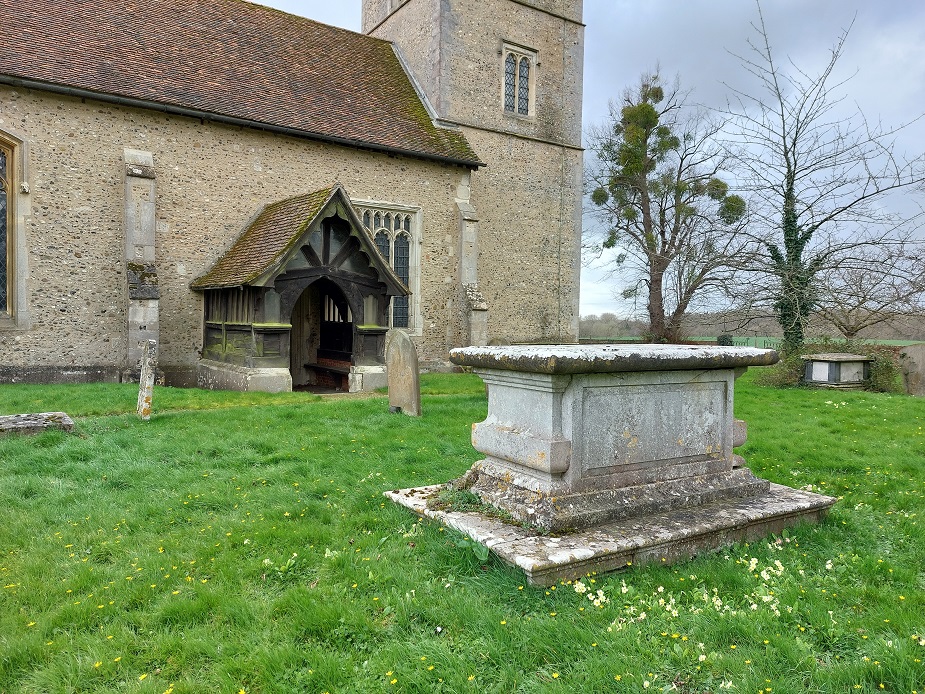 Information from Hertfordshire home: Grade II* listed medieval hall in Hunsdon | Great British Life, FAMILY~1.GED (amershammuseum.org), ControlCenter2 (tomcamp.org) and Hunsdon Village Website